Ebook Promo: Hot Contract
Friday, March 21, 2008, 2:52 PM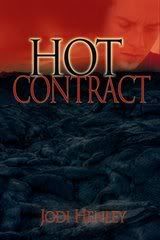 Hot Contract
by Jodi Henley

When Jen Stalling, chief geologist on a new magma-based power plant known as the Pele Project witnesses the murder of a fellow scientist, Project officials don't want the negative publicity of a murder investigation. "An accident," they say. Jen knows better. So does her father, billionaire Art Stalling. But having pushed Jen away years ago, he can't now reveal his interest without exposing her to danger. He hires DalCon, a Seattle-based security group to watch over her.

Keegan Dalfrey has his own problems. Four days ago, during a routine mission gone wrong, his brother was captured by South Pacific extremists. They want two million in ten days. Keegan can make that in nine days by neutralizing the threat to Jen. It's an all or nothing gamble with his brother's life in the balance. He never expected to fall in love.

Read An Excerpt or Buy it now!

Rose (220 pages) Spicy

PRINT ISBN 1-60154-208-9 Also Available In Print Sep 2008
~*~*~*~*~

The release date is TODAY, March 21, 2008, and already Hot Contract has a wonderful review from Simply Romance:


"Jodi Henley successfully navigated a plot that would overwhelm authors of lesser ability. Don't just add this book to your to be read pile or even your must be read pile, place it front and center on your read now pile, you won't be disappointed. I gave the book Simply Romances highest rating, but it has now become the standard I will judge all books of this type by."
~*~*~*~*~
Rock
on
, Jodi.
5 Did the Unhingey Jiggy


Engage in Unhingenosity
. . . . . . . . . . . . . . . . . . . .